Feed Your Personal Revolution
Sometimes, great changes begin with small movements.
Abundant in Polyphenols
Polyphenols are important natural chemicals that are found in many foods and contain powerful antioxidant properties. Antioxidants help prevent the buildup of harmful free radicals, which are highly reactive compounds that form in the body and can cause damage to cells as well as chronic disease. Polyphenols have been associated with a reduced risk of heart disease, cancer and Alzheimer's disease

Making dietary modifications is one of the easiest and most effective ways to prevent coronary heart disease and maintain heart health.
Numerous studies show that eating more vegetables is associated with reduced heart disease risk factors and a lower risk of heart disease. Some studies have also found that including microgreens in your diet could help decrease certain heart disease risk factors.
Coupled with a balanced diet, healthy lifestyle and regular physical activity, incorporating microgreens into your day could help keep your heart strong and healthy.
Organic by Design
We at Revolution Microgreens created our process with Organics in mind. We only use organic soil, seeds and filtered water.
Our process, while not certified organic by the FDA, is organic by design.
non-GMO
Pesticide Free
no fertilizers or additives
BPA Free and Food Safe Trays
Packaged in BPA Free containers
A Healthier You
Microgreens deliver a concentrated dose of nutrients and beneficial plant compounds. As a result, they may reduce the risk of certain diseases.
Heart disease: Microgreens are a rich source of polyphenols, a class of antioxidants linked to a lower risk of heart disease. Studies show that microgreens may lower triglyceride and "bad" LDL cholesterol levels.
Alzheimer's disease: Antioxidant-rich foods, including those containing high amounts of polyphenols, may be linked to a lower risk of Alzheimer's disease.
Diabetes: Antioxidants may help reduce the type of stress that can prevent sugar from properly entering cells.
Certain cancers: Antioxidant-rich fruits and vegetables, especially those rich in polyphenols, may lower the risk of various types of cancer. Polyphenol-rich microgreens may be expected to have similar effects.
Yummmm..!
You don't need to change the way you eat, you just add a microgreens or two into the mix. Not just a salad, drop it on a sandwich, or a wrap. Microgreens are practically made for spring rolls. How about a pesto made from peas, or nasturtium..! Add them in a soup, place them on the plate as a side dish. That charcuterie platter you are making for game day? include some Micro-Gs. And when no one is looking, put them on the pizza. And, best of all, just eat a handful as a snack.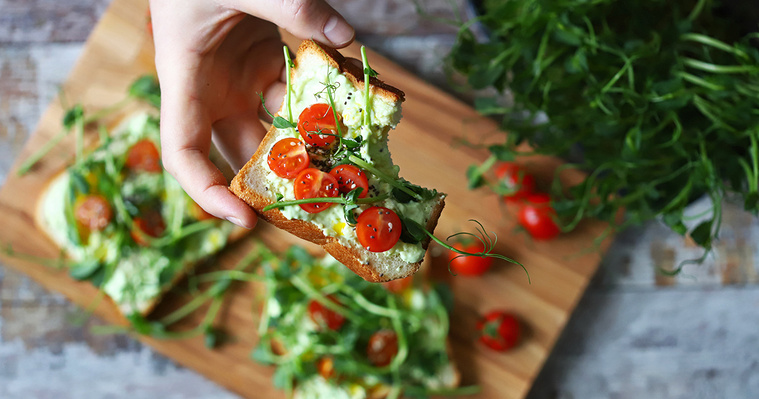 Good for Us All
At Revolution Microgreens we do our best to reduce our environmental footprint. Growing microgreens uses less water than traditional farming and we only use BPA free food safe trays and materials. Our process involves Organic soil and Seeds and we only add filtered water. Our trays are reused and our soil substrate is turned into compost and offered free to anyone who composts for their gardens.
Baltimore and Washington DC Localized Free Delivery
We harvest on Monday for Tuesday delivery. Delivery is free with a minimum purchase. Right now, we are servicing Baltimore and Baltimore County, but will be including DC delivery routes soon.
You can order al la carte, but we suggest the Revolution Mix Sampler. It has the four MGs in our core weekly harvest for only $20 and comes with free local delivery. Adding a weekly subscription means we grow with you in mind. You can even throw MG suggestions at us and if we can fit it in our grow cycle we will give it a go.