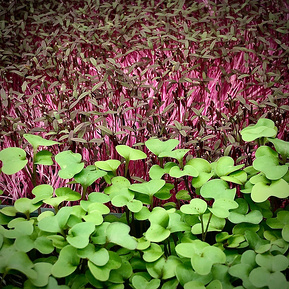 Subscriptions
Set up a weekly or bi-weekly subscription and we deliver it to your door on Tuesday.
Free delivery with $20 order inside our Baltimore Delivery area.
Subscriptions
The best way to receive your delicious Microgreens is by Subscription. A Revolution Subscription means that we grow for you. You are guaranteed (unless something catastrophic happens) a Tuesday delivery of the MGs or Wheatgrass.
Our most popular subscription starts with a Revolution Sampler. It's a perfect selection of our core group of MG's. It's $20 and has free localized delivery. And you can always add more to that using a la carte.
To qualify for free shipping you need a min order of $20. If not, then there is a $10 or more delivery charge. Depending on location.
We currently are delivering to Baltimore City and County and reserve the right to say you are a bit too far for our driver to motor to without a little extra. Generally that's a 15 mile radius.
How to Set up a Weekly Subscription
We are not that High Tech, so please indulge our sign up process.
Just send us a message telling us what you would like.
We will return your message with confirmation and how to pay for the order (Venmo, Zelle, or Paypal).

Each Monday you will be sent a payment request for your order (if you choose weekly or every two weeks) and confirmation of payment will be emailed.
You will receive a text message with a photo when your delivery is complete, that is, if you are not at home.
Email us with questions.